Are you looking to....
Get more great women to have impact in your organisation?
Build the capability of your talented women and ready them for promotion?
Increase your confidence, influence, brand and ultimately performance as a female leader?

We work extensively with women across all industries to develop and prepare them for senior and executive roles. Having been there and done that personally, our team are extremely well placed to tailor internal programs and ensure your pipeline of women are better ready for promotion and impact.
Why advance women in leadership?
It is a given that gender diversity leads to improved performance and the business case for this has been well and frequently made.
Time has not proved the answer. While women make up half of the employees according to the 2020-21 WGEA dataset, only 26% of women hold roles in ASX300 Executive Leadership Teams with a mere 6% of CEO roles held by females.
Taking 75 per cent of company leadership from only 50 per cent of the talent pool simply does not make sense …but is the reality in Corporate Australia today.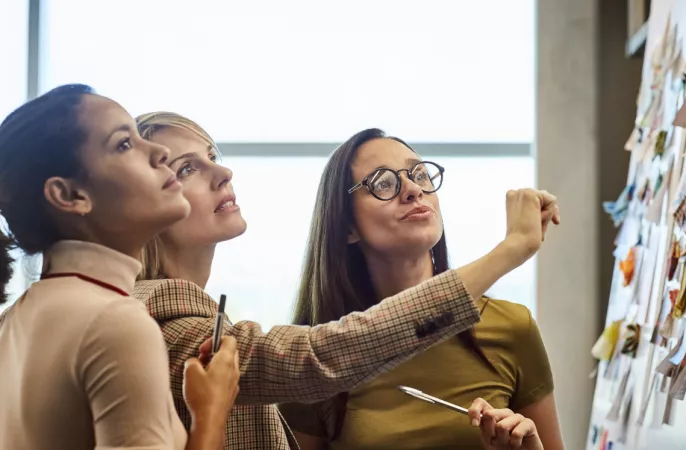 Women in Leadership
A critical investment in the leadership development of high potential women 
Our Women in Leadership offerings are not a typical program but rather built to strategically enhance the already proven capabilities of your female leaders. 
The modules are designed to challenge their thinking in order to provide a critical competitive edge for both the organisations in which they lead, and in their personal careers.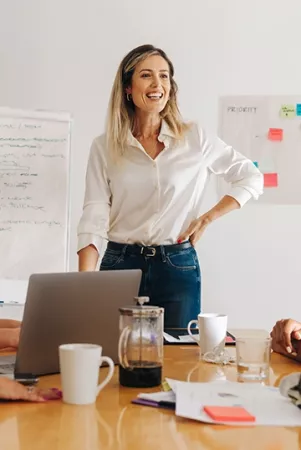 The Leadership Connection
Learn, Connect, Accelerate, Disrupt
A cross-industry, transformational program that provides a unique opportunity to develop women as they advance to executive roles and senior positions of influence.
Designed to help women to develop effective leadership strategies, confidence and to enhance their already proven capability. Over 6 months, we work with women to change the game and take action. It also brings a strong focus on creating successful alliances and partnerships to deal with the unique challenges that women face as they strengthen their impact and realise their potential.

Ready to Connect?
We love working with businesses and individuals who want to have a positive impact on the world around them
Other Leadership Training
What our clients have to say
This program is fabulous! Michelle and the team are personable and authentic, enabling participants to feel comfortable, engaged and honest for a great learning experience. There has been so much I've gained from this program that it is hard to list everything. A few highlights were the extremely meaningful 1:1 coaching sessions, practical tools & and tips, and the amazing women from various organisations that you'll meet and build a great connection with along the way. This is a program every female leader should attend.
Lina Piscitelli, Head of Lending Operations
Bank First
There will be certain parts of the TLC that will resonate far greater for you than other parts. You will have your "aha" moments and immunity to change and the positioning matrix were mine. Absolutely life changing for someone who has done a 180 and is establishing a new way of working for themselves. Cannot recommend TLC more highly.
Katherine Navarro - General Council D & C Contractor
This course provided an introduction to emerging and current female leaders across a diverse range of industries. It was incredibly beneficial to connect, and the group provided an amazing environment to share and foster learning and growth. Full credit and thanks to Michelle Sales and her team on the extensive content.
Tanja Maliszewski – Head of Risk for Financial Services
REA Group
A fantastic leadership program tailored to individual needs and growth opportunities. A wonderful way to create connections across multiple industries and to meet highly professional, intelligent women.
Jacqueline Tang – Head of Financial Crime Delivery and MI
ANZ
The Leadership Connection program had the right mix of learning, reflection and practice. The workshops and inter-sessional work was well complimented by timely and highly effective one on one coaching sessions. I loved each module, with Confidence perhaps my personal favourite. Thanks Michelle and Angela, your own experiences made the 6 months a really enjoyable learning experience.
Gerri Hill - Head of Service Delivery
AFCA
The Leadership Connection Program provided me with the opportunity to really tease out a number of challenges in my leadership role; to consider what the obstacles were and what strategies could assist with my growth and development. Sharing experiences is an invaluable way of reflecting on what you need and how other's skills. experience and practice wisdom can help move you in a better direction.
Kathy Warwick – Head of Tracs
AMF
This program gave me the permission to put aside daily tasks and focus on me, my leadership, and how I show up. It's resulted in me being more deliberate about my actions, reflective, and demonstrating the behaviours of the executive I want to be.
Karen Winsbury - Head of Comms
AusNet
I got so much value out of the program. I achieved my leadership goal within the timeframe of the program which came as a suprise, but shouldn't have. Every step of the way, through the support of the group, the guidance of the amazing facilitators (Michelle and Angela), the mentor sessions, and the way the content was structured, sequenced and delivered - I absolutely experienced the growth I had hoped to achieve. This has lead me to a major milestone in my career and I'm truly grateful.
Alyshia Falla - Head of Digital
AMF
Michelle effortlessly encourages genuine and authentic connection and has been instrumental in coaching a group of our female leaders during a very uncertain time (COVID). She created a safe space for the group to be vulnerable and purposeful in facing the challenges of leading through great change. As a result, the group have become more connected with one another, to support and lift each other up in collective action for our organisation.
Elisa Nerone - General Manager, People & Change at Latitude Financial Services
Latitude Financial
I am so thankful for the experience of the TLC program. I met some amazing women and got to dive deep into how to get the very best out of myself and excel in my career. I thoroughly recommend any women who are wanting to learn more about themselves and who want to grow to get on board - you will not regret it!
Zara O'Keeffe
AFL Victoria
This is an outstanding course, grounded in authentic leadership. I have already recommended it to a number of other female leaders in my network! Practical, insightful and provocative - I know I and the other talented women in my cohort will continue to benefit from the learnings for years to come.
This program changed the trajectory of my career. The Leadership Connection provided me with the practical tools, time and space to practice them, and a wealth of knowledge and experience from Michelle and the rest of the group. We heard from amazing guest speakers and really got to know everyone in the group. I will be forever grateful for this leadership leg-up.