Join the Michelle Sales Leadership email list to stay in touch with the latest news, insights and updates
Thanks for Joining our email list
Keep an eye out in your inbox for our latest news, insights and updates
Leadership is real work. We believe that with the right investment in your leadership you are able to maximise your potential and perform at your best.

If it's possible in the world, it is possible for you. It's just a matter of how.
Why choose Michelle Sales Leadership
PASSIONATE
Our team is passionate about helping people tap into their true potential – in leadership and in life! We believe in the power of the ripple effect. We focus on the development of truly impactful and connected leaders who in turn have a positive impact on the world around them.
INSIGHTFUL
For over a decade, we have been helping leaders to be the best they can be and lead with both their heads and hearts. We keep ourselves at the forefront of leadership to ultimately deliver leadership solutions and unique value to help organisations thrive.
CONNECTED
We love to collaborate closely with our clients, to understand their business needs, and partner with them to form their outcomes. We build deep trust and show we truly care and take our relationships seriously. We value the fun and joy in working with you.
COMMITTED
We ensure our solutions are robust, effective and sustainable but we also pride ourselves on our adaptability. We are highly responsive to feedback and will continue to adapt and grow to maximise our impact. Our transparent, open and honest approach allows for true connection and accountability.
What our clients have to say
Michelle is an authentic, down to earth facilitator who is able to "read the room" and adapt to meet the needs of all participants. Michelle and Angela listen and design sessions that meet the needs of the team, and straddles the right balance of strategic through to applied, tangible plans for action and change
Alix Candy – Director of People and Patient Experience
The Royal Women's Hospital
Michelle deeply listened, and gently pushed us to uncover why (and where) we are an effective team and opportunities to be more effective. She created a comfortable environment so as individuals we shared more about ourselves, our values and what we value than I expected going in!
Madeleine Seletto - Head of HRBP Commercial & Technical
BHP
Michelle and Team challenge your current thought processes and leadership style and ultimately help you to unpack what this means to you personally and how this impacts your professional roles. The sessions are designed to help you question and understand those areas of your leadership which are often overlooked and put in the 'too hard basket' whilst allowing you to be open-minded to leading differently and from a holistic angle. If you are looking for a program which has your overall development at the centre of its purpose and a program that's led by dedicated and knowledgeable professionals, I highly recommend Michelle Sales Leadership.
Natalie Grodzki - People Experience Manager
The Royal Women's Hospital
Improving the lives of people and their organisations through great leadership isn't just a business for Michelle, it's her genuine passion. In a world where technology continues to disrupt at a pace never seen before – Michelle gives teams the tools to reach their full potential and increase performance. She is a true master at maximizing leadership potential in an authentic manner.
Janelle Hopkins - Group CFO
Australia Post
"What an awesome session! We were so fortunate to have Michelle join us to speak on Confidence as we introduced our WomenatME affinity group. Michelle was brilliant and taught us about how we can: • Show up as the best version of ourselves; • Stand up for ourselves and our point of view; • Speak up and have our voices heard; and • Step up and show leadership. We learnt so many tips and tricks of how to build confidence - now to put them all into action! Thanks Michelle!"
Lauren Zammit - Senior HR Business Partner
ME Bank
There will be certain parts of the TLC that will resonate far greater for you than other parts. You will have your "aha" moments and immunity to change and the positioning matrix were mine. Absolutely life changing for someone who has done a 180 and is establishing a new way of working for themselves. Cannot recommend TLC more highly.
Katherine Navarro, General Council D& C Contractor
This program is fabulous! Michelle and the team are personable and authentic, enabling participants to feel comfortable, engaged and honest for a great learning experience. This is a program every female leader should attend.
Lina Piscitelli, Head of Lending Operations
Bank First
Michelle Sales and the TLC course has provided me with an injection of equal parts insight, practical tools and motivation to pick up my game. The six month structure of 1:1 coaching and face-to-face sessions with an engaged and smart group of amazing women, has meant I have also gained knowledge and awareness of other sectors and challenges. Michelle is the driver of change with passion, intelligence, knowledge and warmth. I would recommend this learning opportunity without hesitation.
Jacqui Kinder - Head of Program Delivery
Alannah & Madeline Foundation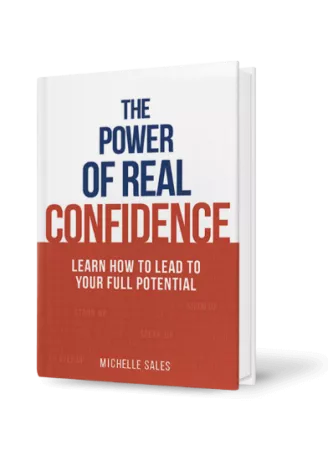 Learn how to lead to your full potential
It's not enough just to feel confident. You have to do the work.
The Power of Real Confidence provides the linkages to why confidence is critical to leadership success at both the individual and team level and gives practical ways to build confidence in an authentic way for sustainable success.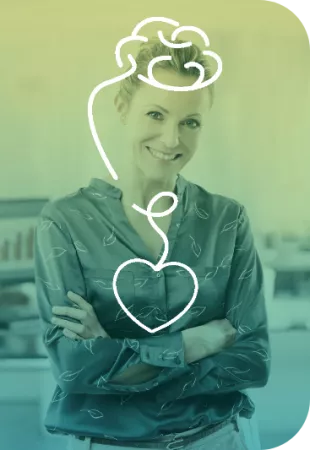 The Connection Deficit
Feeling connected is the ultimate human condition. Connection is what transforms an organisation from 'everyone for themselves' to one where everyone is rowing in the same direction. Connected Leadership focuses on what it takes for leaders to truly connect with their people, build trust and go beyond engagement.
Download The Connection Deficit whitepaper to explore why leaders must bring both head and heart to work to build trust, lift engagement and accelerate organisational results.
Join the Michelle Sales Leadership email list to stay in touch with the latest news, insights and updates